<< Back to Calendar
Webinar - Take Off Your Bunny Slippers & Use That TP Sparingly: Practical strategies to work effectively from home with less stress
Strategic Business Management skills
Please note: this is a Toronto Chapter Meeting and will be via web/live streaming only.
Let's face it. We are in uncertain, uncharted times - doing our best to navigate a new normal. Given all we are already facing, there's no need for your work to cause additional stress!
In this session, we'll explore practical strategies for Project Managers to effectively work from home without pulling their hair out or emptying the fridge. Whether dealing with power outages, pouting children, or spilled coffee, we've got you covered! We'll also cover how to maintain powerful connection with coworkers and others in your life, and offer important tips on how to take care of all of you.
You will leave this session with a powerful set of strategies, and be more excited to get out of your PJs and into your work than ever before.
LEARNING OBJECTIVES
● Discover 7 key strategies to more productively work from home
● Explore the importance of taking care of your whole self - physical, mental, and emotional
● Feel more confident when facing potential distractions
● Understand how to maintain powerful connection with coworkers and others in your life
● Uncover simple hacks to remain positive and calm amidst the chaos
Biography: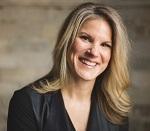 Carol Schulte MA, CPC
An authority on brave leadership and founder of The BRĀV Institute, Carol has been educating, empowering, and entertaining audiences internationally for almost a decade. She is committed to getting you out of your comfort zone and into your B.R.A.V.E. Zone ~ where you get into action long before you feel ready.
She holds a BFA in Theatre Performance, an MA in Communication, two postgraduate certificates in coaching and mentoring, and has worked with numerous Fortune 500 companies, International Associations, and thousands of individuals to get their brave on. Whether it be asking for a raise or promotion, nailing a presentation, or climbing Africa's highest peak, her clients attribute her insights and inspiration to achieving what they never thought possible.
Carol is a published author who has been featured in numerous magazines and podcasts, and is a returning guest expert on Rogers TV in Canada. Having lived and worked in 16 countries including Ashrams in India and vans in New Zealand, rocked dreadlocks in Thailand and shaved her head for breast cancer, she certainly walks her talk. When she's not traveling or speaking on stage, you can find her volunteering as a bereavement facilitator, training for her next triathlon, or practicing her serious carpool karaoke game.
Agenda:
6:30 PM - Introduction
6:40 PM - Presentation
8:10 PM - Q&A
It is no longer possible to register for this event