Leadership Styles affect Outcomes
Session Abstract:
Captivate the audience and thoroughly describe what will be covered in your presentation. We encourage you to think of what would peak the interests of members and entice them to sign up. Some recommendations include questions that will be answered in the presentation, statistics that show the relevance of the topic at hand, etc.  
Your leadership style has a great influence on your outcomes!
We will look at the different leadership styles. The discussion will shine light on when to use which style. We will then end by looking at what servant leadership is and how Servant Leadership helps you set up for success.
Learning Outcomes:
Understand the different leadership styles
When and for who do I use which style?
Servant Leadership as power tool
Speaker Biography:  
Stephanie Jaeger, has 20+ years project management experience in the IT and Healthcare Sector. She focuses on the human factor and believes in the power of mentorship. Her certifications are RN, BBA Healthcare Management, PMP and PMI LIMC.
Stephanie has volunteered in many PMI positions, currently the VP Volunteers for the PMI Kenya Chapter.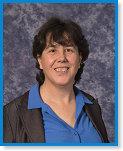 It is no longer possible to register for this event